SPECIAL EVENTS ON THE LOT
Sure, we're serving up some great food, but Food Truck Friday is about so much more than just some fabulous eats...


...it's about savoring the evening in a casual, relaxed atmosphere; the enticing aromas; the dogs and the kids and the guests of all ages and nationalities.


...it's about supporting the local entrepreneurs who've taken the chance to try to build something that could just be...great.



...it's about meeting up with your old friends or making some new ones, because there are no strangers waiting in a food truck line.



---
Check out some of the Food Truck Lot's past special events:

---


May 2, 2015. An annual event that serves up Charlotte's best mobile food in a BATTLE for BEST FOOD TRUCK. These trucks and YOU foodies will help raise dollars that benefit Charlotte's Relay for Life. Let's EAT to defeat CANCER!
---
---
An unexpected surprise at a cold March 27, 2015 Food Truck Friday. Thank you for the impromptu visit!
---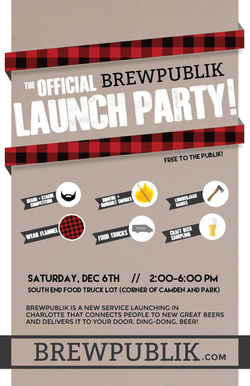 BREWPUBLIK'S OFFICIAL LAUNCH PARTY, December 6, 2014

Despite a rainy, miserable day, a good time was still had by the several hundred people that braved the weather!

A FREE community event to celebrate the launch of BrewPublik, good beer and lumberjacks/jills! Come decked out in your flannel and try out our beer curation system while enjoying some s'mores around the fire and delicious food from local food trucks.

1.) Wear Flannel! We won't judge you if you don't. We'll just look better than you.
2.) Beard and Mustache Competition! Our legit judges from the Beard and Mustache Society of Charlotte will be evaluating beards and mustaches of all sizes and handing out awards.
3.) Beer Sampling- We will be sampling 18 different beers, and we'll tell you exactly what you should try!
4.) LUMBERJACK GAMES- Athletic feats for only the most fearsome! We'll be featuring Keg Curling, Malt Bag Tossing, Can Crushing, Tug of War and more!
5.) Food Trucks!- Sample food from 4 different food trucks!
6.) Artisan S'mores- Our food truck friends and students from Johnson and Wales are supplying recipies for s'mores that you'll want to write home about! Come roast a few marshmallows around our campfire!
---
---
POP-UP PORCH LAUNCH, December 5, 2014
The
Civic By Design Center
in partnership with Helping Homeless to Homes (HHH) of the Urban Ministry Center of Charlotte launched their first event Friday, December 5 during Food Truck Friday in South End, Charlotte, North Carolina to advance the Pop-Up Porch Initiative and Street Stories and Beyond: Past and Present Initiative.
Pop-Up Porches is the intentional act of placing portable front porches where they will be able to support existing social activity and serve as a catalyst for community gathering. Stories are the instruments we use to construct meaning and explain who we are to one another. The purpose of this project is to engage people who are both homeless and formerly homeless to share their stories and cultivate friendships with people who have not experienced homelessness at an event using Pop-Up Porches.
This project creates a space at an event(s) where homeless, formerly homeless and those who have never experienced homelessness can come together and share life stories on a Pop-Up Front Porch. Sharing reveals similarities across class differences. This project connects people from diverse backgrounds by creating a space where shared experiences can be revealed and expressed.
---
---
HALLOWEEN PARTY AT FOOD TRUCK FRIDAY, OCTOBER 31, 2014
Here are just a few of the friends who joined us.