---
It was great while it lasted...
...and we will forever be grateful to the citizens of Charlotte for your enthusiastic support of food trucks in general, and the city's original food truck rally, the SouthEnd's Food Truck Friday.
​When our Camden and Park lot location was sold, it brought an end to the granddaddy of all Charlotte food truck events. But never fear! There are now numerous food truck rallies and events staged throughout the city and its suburbs. You're never far from a food truck!
​So food truck fans, we hope you'll stop and visit when you see us around town. And if you're looking for a food truck to provide lunch, dinner, or special event services at your office, home or neighborhood, please get in touch with
CharlotteFoodTrucks.org
and we'll help you set it up!
---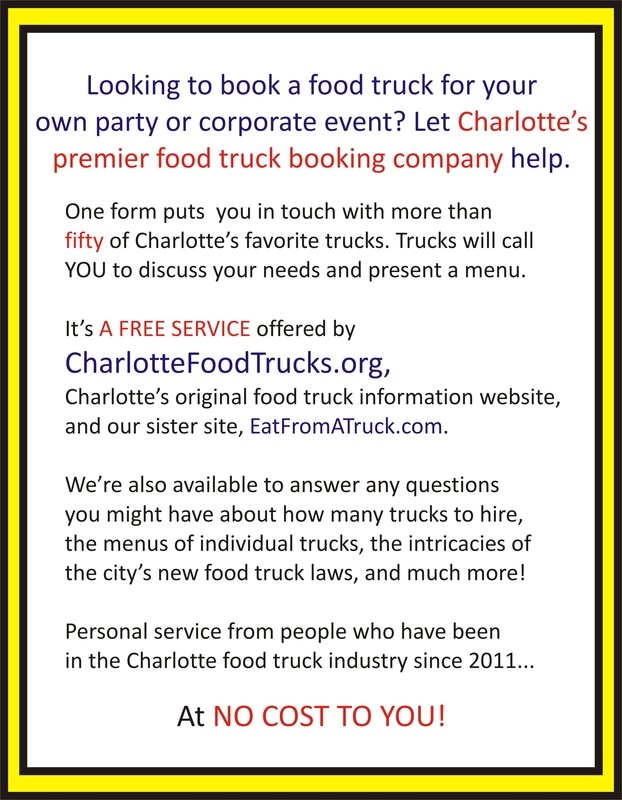 ---
The Food Truck Friday History
Thanks, Plaza Midwood, for welcoming us into your neighborhood!
​April 2016-March 2017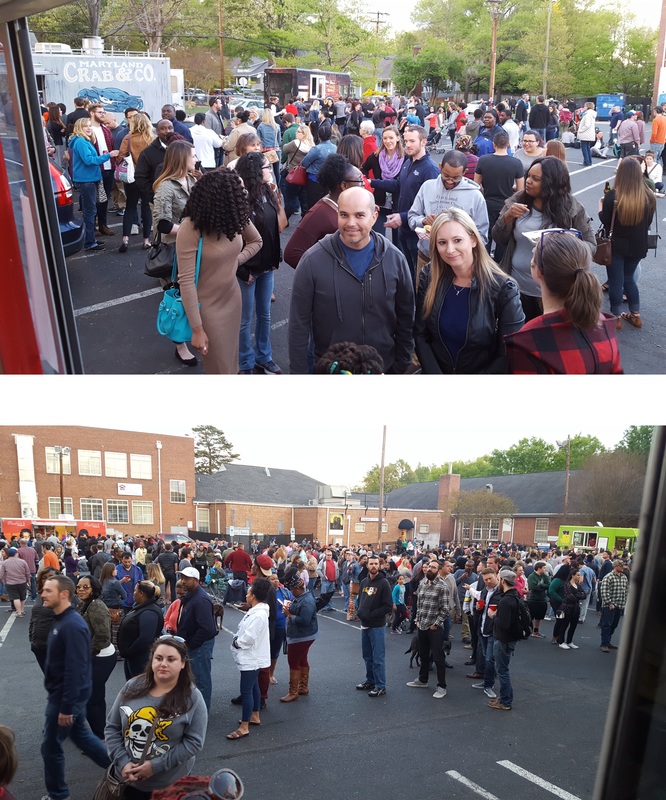 ---
The Original Food Truck Friday, in the SouthEnd at the Corner of
​Park and Camden. February 2011-October 2015
Ah, the fond memories of the first five years of Food Truck Friday, when we were in our original location in the SouthEnd at the corner of Park and Camden. Here's where we grew from our first (cold February) Friday night when we had more trucks than customers (and we only had five trucks!) into one of Charlotte's favorite foodie events. Let's take a little trip down memory lane:
Not sure of the date...
...but we sure drew a crowd!
​
This was late afternoon, before we REALLY got going!

​November 13, 2015


​Dave Trauner, owner of Sticks and Cones Ice Cream and the manager of Food Truck Friday, turns off the lights on the old sign one last time.

​January 13, 2017
​

​In the name of Progress


---
Accolades for Food Truck Friday Charlotte:
Have you seen what we're all about?

Spoon University lists Food Truck Friday Plaza Midwood as one of "The 50 Best Foods To Eat in Charlotte Before You Die"!
---
Courtesy of TWCNews, 4/22/2015
by Richard Green

CHARLOTTE -- Charlotte's Food Truck Friday, at the corner of Camden Road and Park Avenue in South End, is a big deal.

"It's turned out to be on of the biggest parties in Charlotte. It is the place to come on a Friday night," said Dave Trauner.

Food truck owner and Food Truck Friday manager Dave Trauner appreciates what the event has become.

"I remember the first time that we were here, there were three trucks that came that night. No one came," said Trauner.

Contrast that with a recent Friday, when 14 trucks served hundreds if not thousands of people. It is quite a showcase for the food trucks. Take it from Andarrio Johnson at Cuzzo's Cuisine.

"Everyone loves it, and this is just the most popular thing going on right now," said Johnson.

The offerings from the food trucks are varied.

"We had lobster mac 'n cheese. It's so good. We had some different kind of grilled cheese. We had a burger that had...what'd it have on it? Avocado, pineapple and bacon, not the stuff you would find in a normal restaurant," said one attendee.

The trucks are just a sample of what is on Charlotte's streets everyday.

"Food trucks really do add to the fabric of this city. They're colorful. The cuisine is wonderful. You can try a myriad of foods from everywhere," said Trauner.

Food Truck Friday is special though as each truck will serve hundreds of people in a four-hour period.

"You've got to plan for this. This is a big day, and if you're not ready, you're gonna be in the weeds," said Johnson.

The payoff, however, is huge with each truck able to make new customers.

"If they love your food, word of mouth. They're gonna talk about it and tell the next person and tell the next person and the next thing you know, everybody's coming to your truck," said Johnson.

For those eating, the food is a huge draw, but there's the social aspect as well.

Food Truck Friday just started its fourth year and the way it has grown promises many more.

"It's here to stay because the public has been so responsive to it," said Alexander.
---
And more press...
Creative Loafing, Charlotte
September 10, 2014
by Keia Mastrianni

Since its inception in February 2012, Food Truck Friday has evolved from an opportunity to try some of Charlotte's best food-truck offerings to a destination for friends, family and community, not unlike the green spaces of Central Park in New York City or Dolores Park in San Francisco. Except that it's in a sparse grass lot in Charlotte.

On this particular summer evening, 14 food trucks have assembled in a jagged horseshoe. Generators hum along, but not loud enough to drown out the throngs of people - friends, couples, neighbors, multi-generational families and first dates - who have come to shrug off the worries of the week and enjoy a night out. What used to be contained inside the curve of four or five food trucks now spills out onto the sidewalk, where people create makeshift picnic areas with lawn chairs and blankets. The food coming out of the trucks is some of the most creative Charlotte has to offer, and lines are long. Over the course of the evening, like most Fridays, anywhere between 1,800 and 2,500 people will show up.



---

15 ACTUALLY GREAT DATES IN CHARLOTTE


4. Foodie Friday in South End

Food Truck Friday is a Charlotte staple for good reason -- constantly rotating cuisines, out-of-town food guests, and light rail-ability. But it's a BYO affair, so take your date to Common Market first for a bottle shop swap. Pick a brew for each other and enjoy an impromptu tasting alongside your deluxe burger or grilled cheese.

Read the whole article

here.

---

Click the CharlotteFive logo above for a picture essay of Food Truck Friday. July 16, 2015

---

---

Click on one of the buttons on the top of the screen to follow Food Truck Friday on Facebook or Twitter, or to email the Webmaster of this site. Be sure to follow the trucks' individual social media accounts too, so you'll know where to find them when you're craving some great and unique food!

---

Charlotte Magazine
August 2014
by Michael Graff

50 Things Every Charlottean
Should Do


#27 - Eat From Trucks

...The lines keep growing, different personalities in each one...you should read every menu before selecting a line, because food is a choice and choice is freedom and freedom is what Friday night is all about, isn't it?...


---

Best of Charlotte #62: Food Truck Friday

Posted on

January 7, 2015

by

Leigh Brown

ReMax

Held every week, rain or shine, on the outer edge of the Queen City is Food Truck Friday. As a way to kick off the weekend, every Friday evening (from 5-9:00pm) anywhere from 8-15 food trucks line the intersection of Camden and Park in Charlotte's Historic South End. These trucks gather to showcase some of the most scrumptious, and most creative, food that Charlotte has to offer. And on any given Friday, they are offering it to a lively crowd – anywhere from 1,000 to 2,500 people attend!

Food truck rallies are growing in popularity. The appeal of purchasing food from a truck combined with the overall sense of community that is fostered by the rallies, more and more cities are jumping on the bandwagon and offering these regular gatherings as a way to bring to people together.

South End's Food Truck Friday has a website dedicated to showcasing the trucks that will be in attendance as well as highlighting special events that may take place as well. There are certain rules that those in attendance must follow, for example coolers are not allowed (beer and wine can be purchased on site), dogs can attend but must be on a leash and all trash must be picked up. Be respectful and take pride in the environment… Pretty simple stuff.

---